Thailand DNA Paternity Test
Most people come to this website looking for our paternity DNA testing in Thailand to find out whether a particular man is the biological father of a child. Please click on that link for the clearest answers to most questions about DNA paternity testing in Thailand, but if you still have questions then please email or call us at the phone number on the top right corner of this screen.
With us, you can reach a native English speaker, an American scientist in Thailand who manages our company, who will understand your English, answer your questions, and give you guidance. Just call 080-062-4243 or 02-255-0620 . We also have Thai staff for Thai language at 09-0095-8763. We have the Line and WhatsApp apps on both mobile numbers.
This website is in English only. For a Thai language website explaining about our DNA testing, please see the Thai language version of our DNA testing corporate partner in the USA and UK, and then choose Thailand off the main menu. On that website, you will also see that the contact information for Thailand is our office in Bangkok, including our phone number above. Your Thai associates can also call our native Thai speaking staff in Thailand for explanations and answers to their questions. The Thai phone number is 090-095-8763 or 02-255-0620 .
Please note that when COVID started, for "personal knowledge only" paternity tests (not tests for official purposes), we started to encouraged people to use our mailed DNA self-collection kits as is popular in some other countries, and is also more convenient for many people, private, discreet, and economical. You don't risk getting COVID from a DNA collector who has other clients, and we don't risk getting COVID from any of you. DNA self-collection is easy, and you can do it yourself at a time of your own convenience.
We offer US standards of quality control and stringent inspection, to you in Thailand.
Our laboratory, for quality control reasons, is located in the USA. It is the DNA Diagnostics Center (DDC), established in 1995 as one of the first private DNA testing laboratories in the world, and which has maintained its policy of using state-of-the-art DNA testing technology. This includes advanced automation, which allows it to reduce costs by running large volumes of samples per day, and also reduces potential human error. This includes a proprietary "Dual Process" TM which runs samples twice to make sure the results are the same, which many other labs do not do.
Our laboratory is the most accredited DNA testing lab in the world, as witnessed by the long list of certifications and accreditations in multiple countries.
The DDC performs more than half of all private paternity tests in the USA. The DDC has a large nationwide network of DNA collection sites. This network has been extended overseas, of which our company in central Bangkok is a DDC collection center. Note the sheer size of the laboratory in the photos below:
Our laboratory: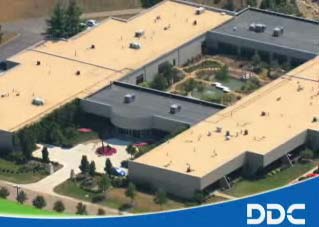 A very large laboratory!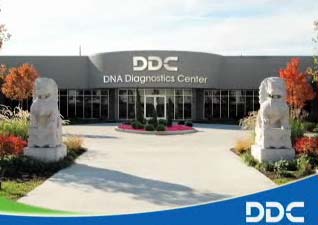 Front entrance, sign (and 2 classic lions guarding)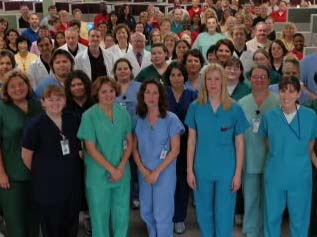 Professional American staff.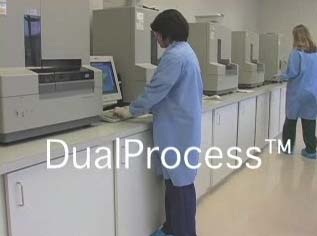 One special thing about our DNA testing laboratory is our "Dual Process" TM whereby we take extra DNA samples, and the samples are split into two independent tracks at the laboratory. After testing, the two results are compared to make sure they are exactly the same. If they are not, then we would collect samples again, at no extra cost to you. This is to make extra sure that there has been no error at the laboratory or anywhere else, and no contamination of samples, because the accuracy of the results is very important.
Our laboratory has MANY certifications and accreditations, most based on USA standards but also including requirements by the UK, Canada, and Australia, some very stringent, which are accepted internationally by many entities in other countries. This assures quality control.
Here are the certifications and accreditations of our laboratory in the United States of America:
---
The AABB is a leading accreditation organization, including a requirement for many official purposes for DNA parentage testing, e.g., the US Embassy requires the DNA testing laboratory to be AABB accredited. The AABB is the American Association of Blood Banks. The DDC was one of the first laboratories accredited by the AABB in 1996. "In the last four assessments by the AABB, in which the laboratory's proficiency was scrutinized on hundreds of Standards, DDC is proud to have received zero Standard Non-Conformance citations."



Michael Baird, Ph.D., Chief Science Officer at DDC, is a past chair of the Relationship Testing Standards Committee of the AABB.

A Managing Director of our company in Thailand, Mark Prado, a physicist, has completed an AABB training program and passed the exam for DNA relationship testing sample collection.
---



ISO/IEC 17025 -- ISO for laboratories (any kind). Note: There is no ISO/IEC certification for DNA testing labs in particular, only ISO/IEC certification for laboratories.
---



ASCLD/LAB-International : "The American Society of Crime Laboratory Directors/Laboratory Accreditation Board is

the most stringent accreditation program for forensic DNA laboratories.

DDC has the distinction of receiving accreditation after the first inspection - further evidence of our laboratory's unceasing commitment to excellence."
This is a

particularly high quality DNA testing accreditation

to look for.
---



College of American Pathologists : "This accreditation requires both laboratory inspection and tests whereby the CAP sends samples to the laboratory and checks the results."
---



US Dept. of Health Clinical Laboratory (CLIA)
---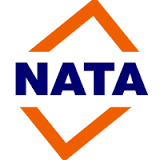 For Australians, the standard is NATA -- National Association of Testing Authorities. For example, on Form 118: Application for Australian citizen by descent, *if* DNA testing is required (check first, as it's often not required!), then that form refers you to Form 1259i: Information about DNA testing for visa and citizenship applicants, whereby it states "you must choose a DNA testing laboratory that has been accredited by NATA for family law testing..." so you go to the NATA website above, choose these items off the menu (as of 2015):
[Home page] => Facilities and Labs => Facility List By Field => Forensic Science => DNA => DNA typing, parentage testing
whereby you will see a list of 8 laboratories = 7 Australian and 1 foreign laboratory which is American. Guess which is the one foreign laboratory? Yes, our laboratory, DNA Diagnostics Center (DDC)!
---
For Canadians, the Standards Council of Canada (SCC) is Canada's national accreditation body. The Citizenship and Immigration Canada (CIC) lists DDC/DNA Diagnostics Center as an approved laboratory.
---
The UK Ministry of Justice has accredited the DNA Diagnostics Center for carrying out parentage tests.
---
The DDC is led by Dr. Michael Baird, the first DNA expert ever to testify in a United States court. Dr. Baird has been actively involved in the nonprofit organization AABB (now the main US accrediting agency for DNA testing) since 1986 and is currently serving his second term as the AABB Chairman.
Please see the website of our laboratory in the United States of America for details of these and additional DNA accreditations and certifications.
---
Our DNA testing laboratory has built up one of the largest databases for paternity testing in the private sector of DNA from people all over the world (the largest as far as I know), so that the laboratory can give you a truly calculated percent probability. You can have the most confidence in our laboratory that your DNA results are true and accurate.
We do not test a minimum number of loci for minimum cost. We test at least 20 loci, and we can test many more. How many loci are tested depends on how common or rare the individuals' DNA is, in order to get a high percentage of probability over 99.99% in paternity cases, typically 99.999+%, and often 99.99999+%. Importantly, we show the basis of our calculation. We don't just tell you 99.99999999% according to our expert, because anybody could just make up a number for customer satisfaction. We show on our report the basis for our real calculation.
---
What our customers have said about us:
"... As a medical professional who formerly administered a small but robust research department I know quite well what mistakes are possible with lab work as well as the unfortunate outcomes which derive from sloppy work in a laboratory setting. As a scientist yourself, I was doubly reassured that you clearly had put a lot of thought into the laboratory you employ and had chosen judiciously and well. ..."
- Robert, Teoy, and Lucy Jackson (American citizen in Thailand)

"I would like to say I found the service from you and your team highly professional, courteous and faultless. DNA test samples were taken in a most convenient manner and results provided at the promised time. That the tests were carried out in a properly accredited test laboratory serves to ensure the utmost confidence that the test results are accurate, reliable and corruption free, attributes that are hard to find at some other test laboratories."
- MB (UK citizen in Thailand)
We can provide many testimonials to our quality service ...
If you have any questions, then please call us at:
Office Telephone: 02-255-0620 Thai and English
Office Telephone: 02-255-0621 English only
Mobile after hours and weekends, Thai: 09-0095-8763
Mobile after hours and weekends, English: 08-0062-4243
Actually, for native English, you can just call the latter mobile phone number anytime, 24/7.
You are also welcome to visit us at our office on Sukhumvit soi 2 between the Nana and Ploenchit skytrain stations. Please make an appointment first by calling or filling in our Contact Form.
---
---
---
---

You are here: Thailand-DNA-test.com


---

SiteMap:

Homepage

Paternity DNA Test

How DNA Testing Works

Prices

Remote Locations

Mailed kits, self-collection

No Blood, No Pain

Anonymity and confidentiality

Personal vs. Legal Tests

Western Embassies, Immigration, Thai Government

Corruption and Bribes

Can you trust us?

Psychological Issues

Official Certifications

Hair, blood, fingernails...

Require Breastfeeding

Other DNA Tests

Policies and Confidentiality

FAQ

About Us

Contact Us, Map



---

Copyright by Lucky Lion Pride Co., Ltd., 2010-2023, All Rights Reserved.
Website created in-house 100%, not outsourced to any website design company. (Not slick but real.)
All photos are of people and things really related to our business, not just photos taken off the internet.
---

DNA Diagnostics Center (DDC) Corporate Partner in Thailand

Lucky Lion Pride Co., Ltd.
Ploymitr Building
Sukhumvit soi 2, Klongtoey
Bangkok 10110

Native English: 080-062-4243 , Thai: 090-095-8763, LINE on both numbers








Menu: see our Site Map
This site is about
Thailand DNA testing.