Contact Us
You can contact us whichever way you prefer, e.g.,
our contact form below, or
calling us on a phone number below, or
sending an email to the dna address above at thailand-dna-test.com
Office telephone: 02-255-0620 Thai and English
Mobile phone: 08-0062-4243 (English)
Mobile phone: 09-0095-8763 (Thai) -- that's 09, not 08
Fax: 02-656-8824
A map to our office is given below the contact form.
---
You can visit us at our office, but you MUST make an appointment in advance. Our address and phone number are given below the contact form. A DNA collection agent can also meet you at your location if that works best for a baby.
Lucky Lion Pride Co., Ltd.
Ploymitr Building, Floor 7
81 Sukhumvit soi 2
Klongtoey, Klongtoey
Bangkok 10110
THAILAND
We are now located in central Bangkok on Sukhumvit soi 2. Our office building is the Ploymitr Building. It is at the end of soi 2, which is a dead end soi. Soi 2 has the JW Marriott and Ploenchit Center shopping complex on the corner. Just go down 600 meters to the end, where there is the gate to a church, the Atlanta Hotel on the right, and the Ploymitr Building on the left. Enter by the side (not front) door. Go up the elevator to floor 6, then the stairs to floor 7. There will be a wood and glass door for entry to the stairway to floor 7. If it is locked, then just press the doorbell. If it is open, then just proceed to floor 7 and then to the tinted/reflective glass door, and enter.
The Ploenchit skytrain station is just a 1 or 2 minute walk from soi 2. By car, it is just past soi Nana. If you take a taxi from the skytrain, then get off at the Nana station because Sukhumvit is one way with a big median.
If you come in by expressway then you take the Ploenchit exit but turn right into Ploenchit Center about 100 meters before Sukhumvit/Ploenchit Road cutting thru the Ploenchit Center driveway to get to soi 2, but don't miss the Ploenchit Center cut-thru because if you miss it, you're on a one-way street going the wrong way. It's quick and easy if you don't make a mistake.
GPS: N13.73680,E100.55210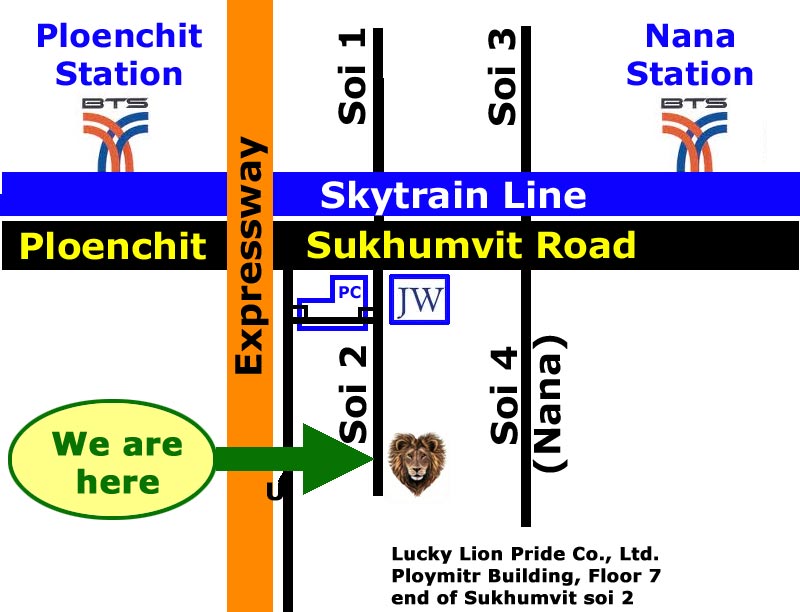 Copyright by Lucky Lion Pride Co., Ltd., and Mark Evan Prado, 2010-2011, All Rights Reserved.

Menu: see our Site Map
This site is about
Thailand DNA testing.